Inaugural Seminar with Uğur Şahin
The Association of ERC Grantees aims to defend excellent bottom-up fundamental research in Europe, to facilitate networking amongst ERC grantees, and to engage the public around the importance of scientific research for society.
With this in mind, we are thrilled to initiate our "Science & Society" Seminar series, the goal of which is to highlight, through personal stories and science, the role of fundamental research for a better society and for a better world.
Our inaugural seminar, organised online, featured ERC Grantee Uğur Şahin, creator of the BNT162b2 mRNA COVID-19 vaccine and CEO of BioNTech as well as Dr. Özlem Türeci.
This event took place on May 5th, 2021 @ 17:30 and was livestreamed on the ERC's youtube channel. A recording is available here.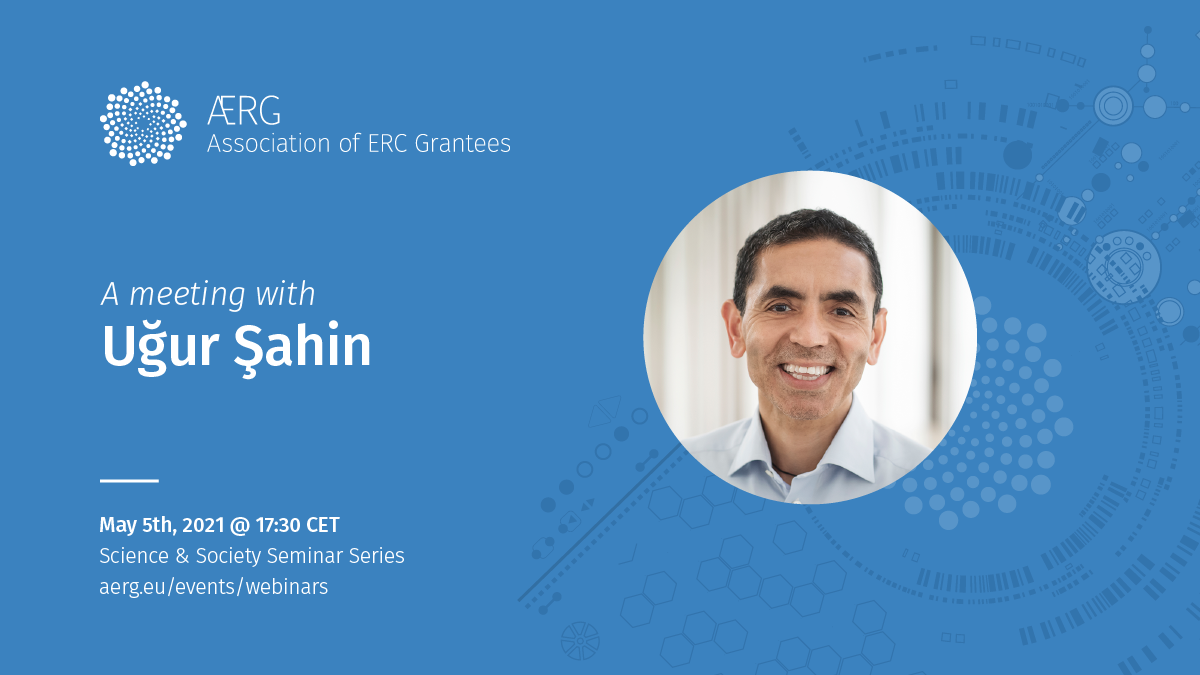 About our meeting with Uğur Şahin
The Association of ERC grantees (AERG) is thrilled that Prof. Uğur Şahin will deliver the inaugural lecture for its "Science & Society" seminar series, which aims at promoting excellent bottom-up fundamental research for a better society and a better world.
Uğur Şahin is a professor of experimental oncology at the Johannes Gutenburg University Mainz and the CEO of BioNTech. He gained worldwide recognition for the historical development of the first COVID-19 mRNA vaccine, the "Pfizer-BioNTech vaccine", which went from laboratory development to conditional approval within an unprecedentedly short eleven months. How was that possible? This amazing success stems from the essential fundamental and translational work previously carried out by Prof. Şahin, and funded in part by his ongoing European Research Council grant (SUMMIT). Prof. Şahin pioneered different breakthroughs enabling the development of mRNA vaccines and other types of immunotherapies against cancer and infectious diseases. To transform his concepts and findings into novel medicine, Prof. Şahin co-founded BioNTech — the company that he is now CEO of. Today, he is one of the world's foremost experts on messenger ribonucleic acid (mRNA) medicines. Prof. Şahin received numerous awards, including the German Sustainability Award, the Mustafa Prize, and the German Cancer Award for his achievements.
In his lecture, Prof. Şahin will tell us about his scientific life, mixing his personal journey through science with the story of the key findings and achievements that led to the vital COVID-19 vaccine. This success illuminates the importance of fundamental scientific research and of the financial support of scientific excellence, as well as the translation of the ensuing discoveries into useful applied instruments for the well-being of our societies today and for their future tomorrow.